We are all accustomed to national and state boundaries as defining units, so it can be difficult to recognize how much they can obscure.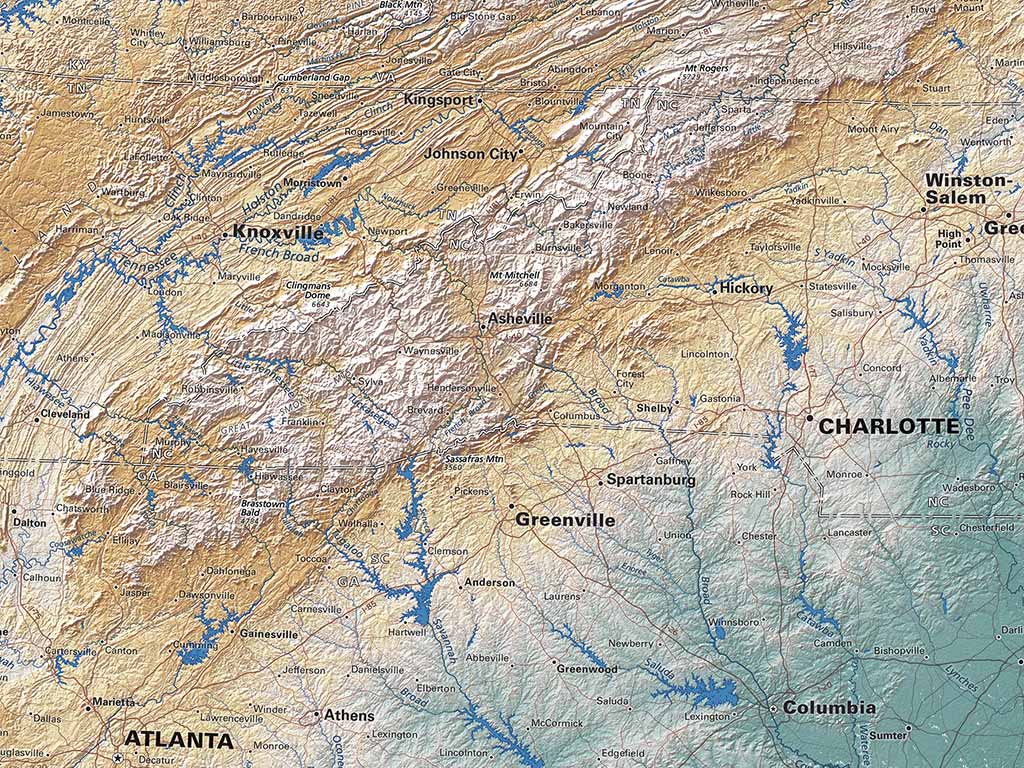 The Appalachians & Ohio River Valley Close-up

The Appalachian Mountains offer a great example of both issues. The range runs from Alabama to Maine and on through the Gaspé Peninsula, extending across 16 states and two Canadian provinces. That makes the region tough to describe: "The Alabama-New Brunswick Region" just doesn't fit anyone's notions of geography.
And the state boundaries of Tennessee, North Carolina, Kentucky, Virginia, and West Virginia cut the highest portion of the range into jigsaw puzzle pieces. It's not easy to reassemble them into a clear mental picture.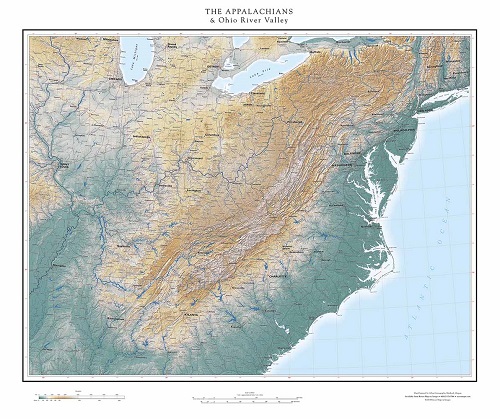 The Appalachians & Ohio River Valley 32" x 38"



The obvious solution is a regional map that covers the whole range, and here we run into the obstacle of the "north-up rectangle". The range runs at an angle to the latitude/longitude grid, so any conventional map covering the whole range would cover a very large portion of Eastern North America and lot of the North Atlantic as well. The Appalachians would occupy a very small percentage of the whole map.
The real solution is to re-orient such a map so that it aligns with the trend of the mountains, but, are viewers ready for state and national boundaries at strange angles, or coastlines we are accustomed to thinking of as vertical, suddenly appearing horizontally?
In the 1940's the great American cartographer Richard Edes Harrison produced wonderful series of world regional maps with unconventional orientations. Published in Fortune Magazine, they were reprinted in the appropriately titled "Look at the World" Atlas.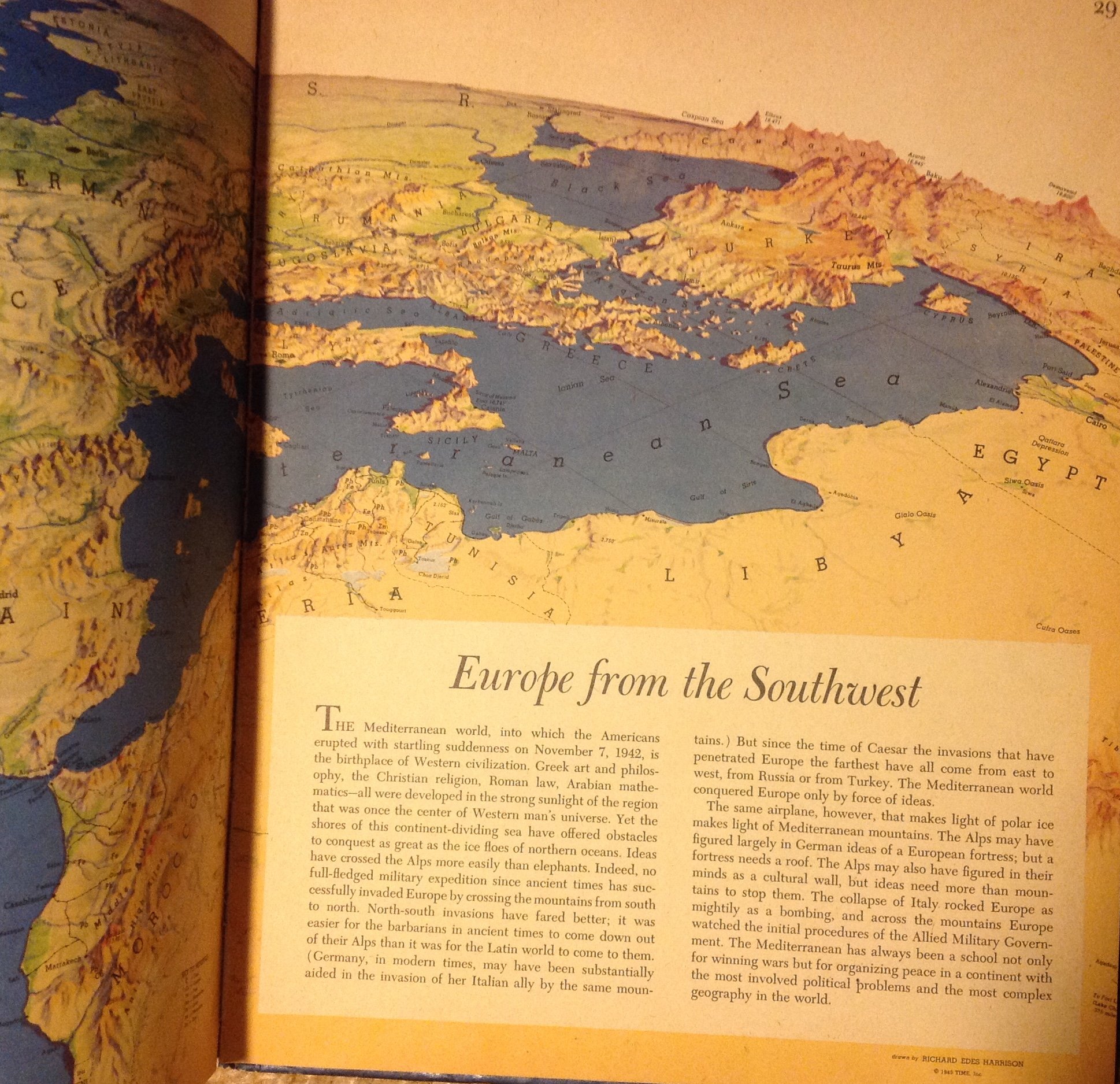 Look at the World: The Fortune Atlas for World Strategy,

Harrison's unexpected orientations worked beautifully, but there haven been few if any comparable works since. Harrison was working in an unprecedented context: World War II gave air power a completely new importance, and suddenly made distant places significant. And, most of the series were presented as portions of the spherical globe, a base that in itself breaks down rectangularity.
Raven's "One World" map was an effort in that direction.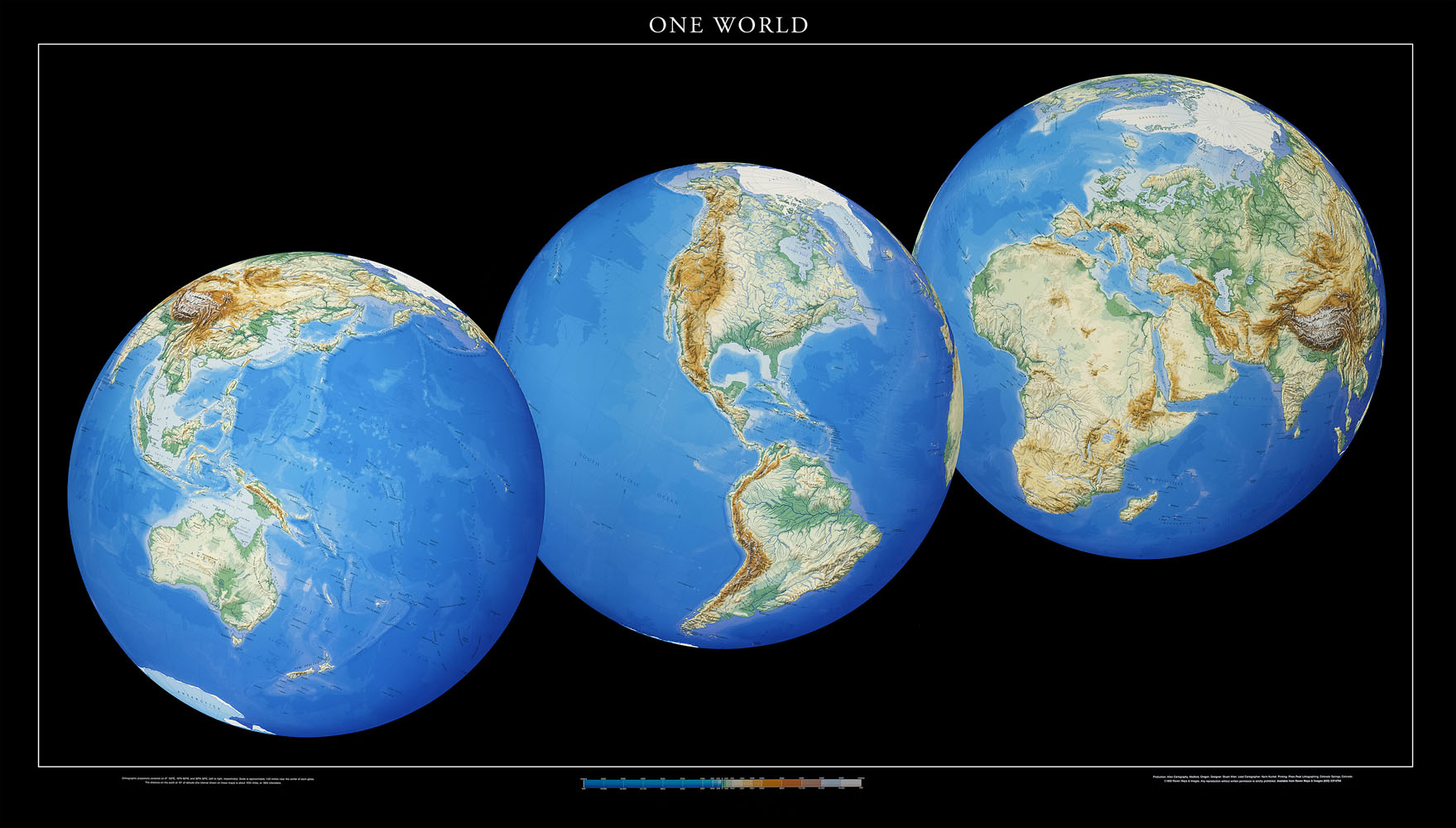 Currently, our San Francisco Bay Area and Greater Bay Area series is aligned 27° off north - but that's a fairly minor deviation. Can we make a more obviously angled map of the Appalachians a success?