Raven's latest Regional Map covers THE SOUTHERN ROCKIES, including all of the four corners states and a lot of neighboring territory. The map encompasses the whole Colorado River drainage basin, but it also includes large areas that no one would ever call "the Rockies". Well, a lot of issues arise when it comes to defining regions, and to choosing titles. With apologies for the long digression: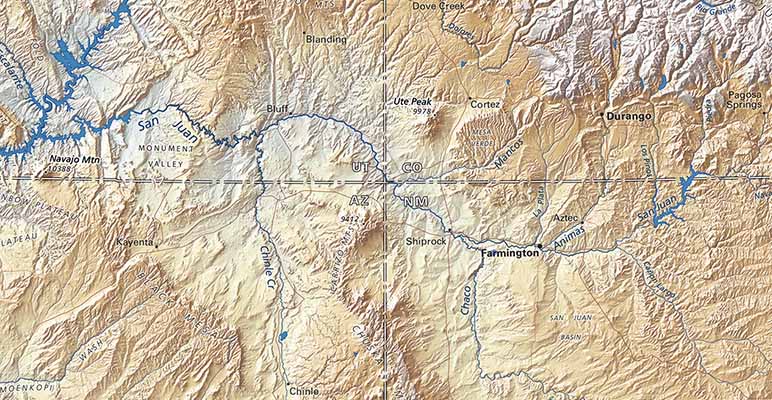 Where the Four Corners meet on our Southern Rockies Regional Map

As long as Raven maps showed individual states as "island maps", we could ignore the actual extent of physical features. Whatever went on beyond the political boundary was of no concern. That's convenient for the map maker, and "island maps" do guarantee a clear focus on the title subject.
We all know where the Rockies are, from a distance. Pikes Peak or Bust! Rocky Mountain National Park! Close up, it's not so clear. The term covers much of the Interior West, from near the Mexican border to far into Canada. There are dozens of named ranges and distinct mountainous areas in at least five western states. In Colorado alone, from north to south, looking west from the plains: the Laramie Mountains and just behind them the Medicine Bows; these merge to the south into the Mummy Range and the Never Summers. Then the wide Front Range (that's what you see from Denver). Further south, it's the Rampart Range, then Pikes Peak (not a linear range at all, but a free-standing block or massif.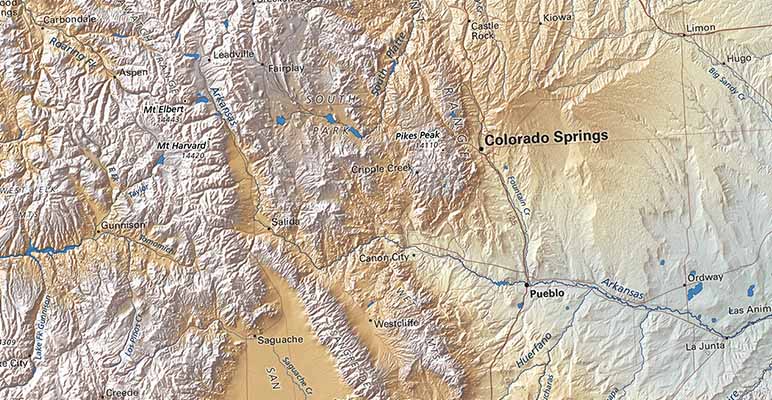 Pike's Peak, Pueblo, and the Arkansas River

West of Pikes Peak, the Sawatch Mountains include many named ranges; to the south are the Wet Mountains and then the Sangre de Cristos, a dramatic and clearly defined range, separated from the San Juan Mountains by the San Luis Valley— still the Rockies. In Colorado, the Sangre's offset southern extension is the Culebre Range. But the Sangre de Cristo name is applied for another hundred miles down to Santa Fe in New Mexico…
Mountain ranges are pretty much like that everywhere, so a general regional name like The Rockies is a great convenience, but it includes ranges that extend over nearly a thousand miles from east to west. We tried angling a rectangular frame to accommodate that extent on one sheet. That solution works well for the Raven West Coast Regional map, but for the Rockies the angle was troubling and the map larger than we wanted. Hence, finally, a pair of offset "north-up" rectangles, with a lot of overlap in Wyoming.
We will be publishing the Northern Rockies within the next few months. In the meantime, could we interest you in the next sheet east, covering all of the Rio Grande, Pecos, and Canadian drainages? The Southern Plains includes all of Texas and Oklahoma, and a lot of adjacent territory in Mexico, New Mexico, Colorado, Kansas, and beyond.
4/25/18